Friday, October 26th 8:00pm
Ross Goldstein
with Brian Dewan! $5
The last we heard from Ross Goldstein was his second solo album Inverted Jenny, a collection of blissful and exploratory orchestral pop that arrived in the late summer of 2017. Just a little over a year later Goldstein returns with The Eighth House, a complete shift of gears that finds him immersed in a cinematic dreamworld of instrumental sounds that still hold glimmers of the psychedelic spirit inherent to everything he touches.
The initial inspirations for the album began during sessions for Inverted Jenny, an album where Ross actually recorded and then removed vocals from many songs, opting for instrumentals that said more than lyrics could. Already leaning towards exploring deeper expression with instrumental compositions, he entered a phase of obsession with science fiction books and movies, as well as listening closer to soundtracks and incidental film music. Turning to an arsenal of classic Chamberlin and Mellotron sounds, he began composing the pieces that would become The Eighth House, fantastical and often slightly damaged scores to imagined scenes of both cosmic and Earthly.
While plenty of homage has been paid to the anxiety-heavy synthy soundtracks of 70's b-movie horror flicks or the acid rock freak outs that soundtracked movies from the early days hippie subculture, The Eighth House goes in a very different direction. More than those popular entry points, the music here is subdued and slow-moving, curiously inspecting ideas as the album moves through various fantastical passages. Even when cartoonish sound effects meet with tense swells of strings or dramatic orchestral flourishes (early Chamberlin models recorded their sounds using players of the Lawrence Welk Orchestra, no less!), the result is never garish but always patient and communicative. Bells ring in the distance, memories and possibilities are implied but left open to interpretation and strange but friendly sounds linger for just a moment before melting into something else. The result is a muted and wintery paradise that envisions Smile-era Brian Wilson scoring the softer moments of a Jodorowsky film.
What's most striking about The Eighth House is how much of Goldstein's sonic personality comes through, even in music that's in some ways striving to disappear into the background. Whether it's lilting chamber pop, the screaming psychedelia of his band Fogwindow or in this case a slowly-unfolding narrative of celestial instrumentals, it's all unmistakably Ross, reflecting an intrinsic kindness that's always at odds with a restless searching. It's definitely present on this album of drifting wordless compositions, as he offers us ripples of boundless imagination and just-out-of-reach impressions of other worlds.
credits
~releases October 26, 2018~
Brian Dewan is an artist who works in many media, including art, music, audio-visual performances, decorative painting, furniture design, poetry and musical instrument design. Dewan writes, narrates and illustrates I-CAN-SEE Filmstrips, and collaborates with his cousin Leon Dewan in the electronic music duo Dewanatron. He has produced four albums of songs and concertized extensively as a solo artist, as well as having performed in various collaborations and as a sideman. His musical releases include: Tells The Story, The Operating Theater, Words Of Wisdom, and Ringing At The Speed Of Prayer. Dewan lives in Catskill, New York.MORE
Brian Dewan
Ross Goldstein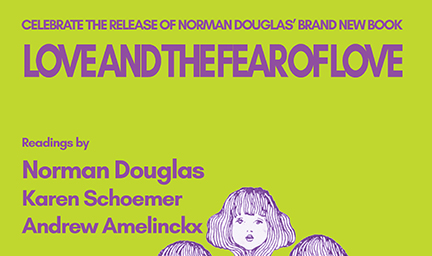 Saturday, May 13th 7:00pm
Norman Douglas's Book Release Reading with Karen Schoemer and Andrew Amelinckx.
Celebrate the release of Norman's debut literary collection, Love and the Fear of Love. Free.
Love and the Fear of Love is made of fables, stories, and tales based on specific words and phrases. Dig in to court procedurals on the meaning of love, the true meaning of trouserdom, and original fables such as The Man, the King, the Girl and the Spider.
NORMAN DOUGLAS
norman douglas does way too much, even tho he says he does as little as possible.
he lives alone to sleep in the very large apartment he calls home while advocating communal lifestyles.
he writes poems on the street and says he's not a poet.
he uses human languages to say that language fails to create the true realm of the unspeakable.
he knows we're not even people and says the planet would still be perfectly invaluable without nominally sentient animals who are so scared of love that they don't even need to validate while they value everything else they ain't got.
mostly he treks lots of stories just like folks you know. plus, he wants to not want.
also, he pays rent in hudson, new york, usa, earth, outer space.
KAREN SCHOEMER
Poet Karen Schoemer contributes words and vocals to a number of bands, including Sky Furrows, Jaded Azurites, Ivan the Tolerable and Karen & Peter. A former music critic for the New York Times and Newsweek, she is the author of Great Pretenders: My Strange Love Affair with 50s Pop Music and the poetry chapbook Sparrowbush Bread.
ANDREW AMELINCKX
Andrew Amelinckx is a freelance journalist who has previously written three historical true-crime books. He held down a variety of jobs, from bartending in New Orleans to burlesque dancing in New York City, before spending a decade as an award-winning investigative crime reporter for several news organizations, including the Pulitzer Prize-winning Berkshire Eagle. His work has appeared in Insider, Smithsonian.com, Men's Journal, Modern Farmer, and elsewhere. He has an MFA with distinction in painting from Pratt Institute. Andrew lives with his wife, Kara, and dog, Dashiell, in New York's Hudson Valley.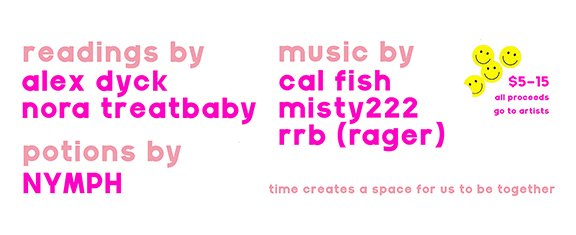 Sunday, April 30th 6:00pm
Reading with Alex Dyck, Nora Treatbaby, and Music by Cal Fish, Misty 222 and RRB (Rager)
And Potions by NYMPH! $5-$15 donation for the artists.
Time creates a space for us to be together.
Doors will be open to let the air and light in.
Show will be accessible from the inside + from the street.