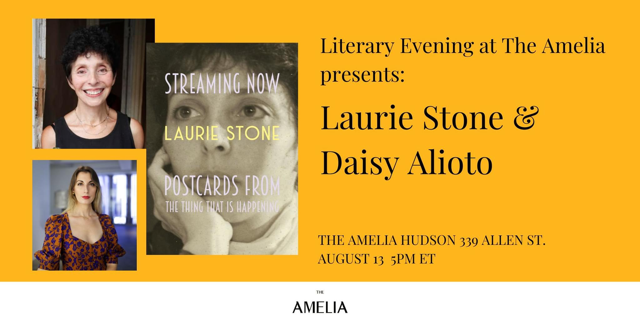 Saturday, August 13th 5:00pm
Laurie Stone and Daisy Alioto at The Amelia in Hudson (Free Ticketed Event)
Reading, book signing and conversation. At The Amelia Hhotel, 339 Allen St. Hudson!
Author, Laurie Stone, joined by Daisy Alioto, CEO of Dirt Media, will
share their work, and converse about their various collaborations.
1) THIS IS A FREE, but TICKETED EVENT
Pre Registration is Required! Register HERE >
2) This wonderful event is NOT at The Spotty Dog. It's at the Amelia Hotel, 339 Allen St. in Hudson (a short walk from the Spotty).
The Spotty will be there, assisting with hosting and facilitating book sales.
__
Following her reading Laurie, will be joined by Daisy Alioto, the co-founder and CEO of Dirt Media, in conversation about their work, feminism now, and their various collaborations over the years and across their generations.
Laurie Stone's collection of essays detail what has been lost and what we joyfully may not miss. Stone likes the secrets people know and don't tell. Like maybe we don't want to go back to how things were. Writing in the Next, as she puts it, doesn't sound like writing from the Before. Working with jump cuts in time and mashups of memoir and criticism, she celebrates the freedom we may have gained from the world's broken narrative—we can leave behind stories that go in only one direction and end in resolution.
Because she loves you, she will tell you anything—whether it's the moral ambiguities of buying a lobster from Trump supporters or making the case to let Jeffrey Toobin's penis off the hook. In a period when most of us felt more alone than ever before, Streaming Now is proof Stone was right there with you all along.