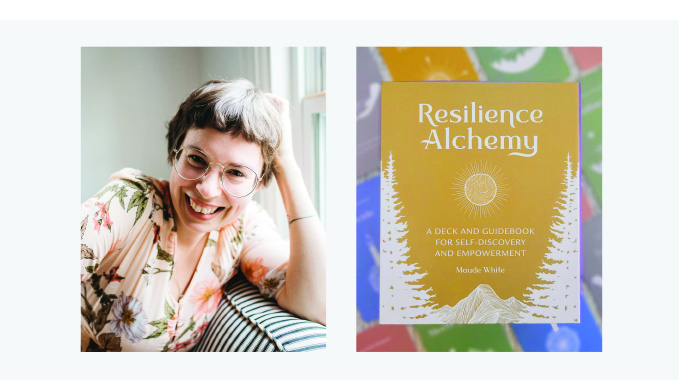 Friday, December 16th 7:00pm
Maude White: Author Reading and Signing
Her new release Resilience Alchemy is a deck and guidebook for self-discovery and empowerment. Free!
Get ready for a season of resilience, creativity, and healing! Join author and artist Maude White in an exploration of RESILIENCE ALCHEMY: A deck and guidebook for self-discovery and empowerment. This gorgeously illustrated and gently written deck is uniquely designed to foster comfort, encourage creative problem solving, and expand self-care. In this special book talk event, Maude will explore the deck and guidebook and lead attendees through the joint creation of a unique and empowering "resilience reading" for facing the stresses and joys of the holidays and the winter season. Give a signed deck for someone you care about this holidays!MORE

Saturday, December 17th 7:00pm
Author Event: Dark Tales for a Darkening World
Three authors read from their works of horror set in the Hudson Valley. Free!
Sam J. Miller's is the Nebula-Award-winning author of Blackfish City, which has been translated into six languages and won the hopefully-soon-to-be-renamed John W. Campbell Memorial Award. Sam's short stories have been nominated for the World Fantasy, Theodore Sturgeon, and Locus Awards, and reprinted in dozens of anthologies. He's also the last in a long line of butchers. He lives in New York City, and at samjmiller.com
Andy Marino was born in upstate New York, spent half his life in New York City, and now lives in the Hudson Valley. He is the author of the horror novels The Seven Visitations of Stanley Burgess and It Rides a Pale Horse. He also writes historical fiction for young readers, most recently Escape from East Berlin.
John Langan is the author of two novels and five collections of stories. For his work, he has received the Bram Stoker and This Is Horror awards. He's one of the founders of the Shirley Jackson Awards, for which he served as a juror during its first three years. His reviews have appeared in Locus magazine, the Los Angeles Review of Books, and the New York Review of Science Fiction. He lives in New York's Mid-Hudson Valley with his wife and an office full of feral books.