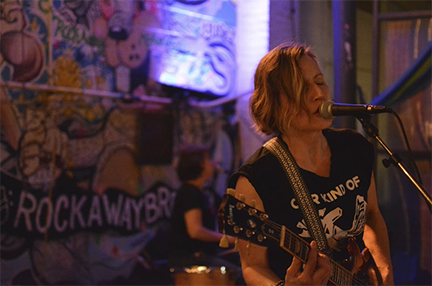 Friday, April 26th 8:00pm
Girls On Grass and House of Kin
The Spotty Rocks on a Friday Night. $7.
Brooklyn-based Girls on Grass, despite their moniker, is precisely 50% girl—Barbara (writer, singer, guitarist), drummer Nancy Polstein (the Friggs, Cheri Knight, Star City)—and 50% boy: blues/alt-country vet David Weiss on lead guitar(replacing Sean Eden), and WFMU's own Dave Mandl on bass.
Upon her arrival in NYC in 2004, Barbara served time in a handful of bands; it took a decade for her songwriting identity to blossom, and when it did, it contained multitudes: not only her Wisconsin working-class folk-country sensibility, but all the strains she took in as a kid andas a working musician. Think very, very melodic roots-y but also psych-inflected bands: the dBs, the Rain Parade, plus a big dose of surf and rockabilly. Plus, just warm as heck.
But that's not all: she's sort of a guitar hero. Think Dickey-Betts-meets-Tom-Verlaine. Precisely executed, angular lines, played left-handed. But that's not all, either, because this is really a band, one that, upon their 2014 live debut (at Freddy's Back Room) seems to have become the favorite of an alarming number of people. On Barbara's left is Dave #1: the Tele guy who can effortlessly channel the likes of Roy Buchanan, Clarence White, or Richard Thompson as he plays in deft counterpoint to Barbara's guitar. On her right is Dave #2, the melodic-but-grooving bass guy, who seems to always come up with the perfect but completely unexpected part. And behind her, holding everything together is Nancy, a drummer who really knows how to support a song, but can unleash a Bonham-esquestadium fill when such a thing is called for.
Dirty Power, their about-to-be-released sophomore effort,is a stunning collection that continues Barbara's lay-it-on-the-lineapproach to songcraft but ups the ante musically witha more-developedguitar interplay that's equal partsSticky FingersandMarqueeMoon.Girls on Grass recorded Dirty Powerwith producer Eric Ambel (alum of Joan Jett & the Blackhearts, Del-Lords, Blood Oranges)and engineer Mario Viele, with mixing by Michael James.
__
House of Kin weaves words from the heart into dynamic vocal melodies and harmonies that shake the soul into the present moment. Live looped vocals, piano, bass and percussion create a soulful pop sound and a story of redemption. With ethereal incantations, humor, and raw truth, Jess Kin and Michael Lesko offer their dreams of what could be with a personal mission to live in gratitude and treat all life as kin. Each song is a prayer and a testament to the lessons learned from the darkness."MORE
More about Girls on Grass