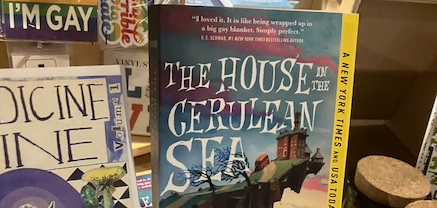 Tuesday, April 11th 6:00pm
Book Club!
Meets at 6pm Every Second Tuesday. Free!
Happy Spring! April Book Club will be here before we know it, and we'll be discussing The House in the Cerulean Sea by TJ Klune.
Copies of next month's read, Crying in HMart by Michelle Zauner will be available with a book club discount of 15%.
*For those who braved the storm to make the March meeting – bravo! For those who couldn't make it, I thought we could start the April meeting by revisiting Klara and the Sun :).
Book Club Description
A group of up to twenty diverse individuals who share a love of reading, conversation, discussion, meeting new people and who are open to diverse life views. Each meeting, a different club member will be designated to host the next gathering. Drinks and snacks are available. We'll see what happens and build from there!
Book Club Details:
– A new host at every club meeting!
– The Book Club books are available from The Spotty Dog at a 15% book club discount.
– the second Tuesday of every month
– 20 people maximum
– 6pm-8pm or so
About The House in the Cerulean Sea
A magical island. A dangerous task. A burning secret.
Linus Baker leads a quiet, solitary life. At forty, he lives in a tiny house with a devious cat and his old records. As a Case Worker at the Department in Charge Of Magical Youth, he spends his days overseeing the well-being of children in government-sanctioned orphanages.
When Linus is unexpectedly summoned by Extremely Upper Management he's given a curious and highly classified assignment: travel to Marsyas Island Orphanage, where six dangerous children reside: a gnome, a sprite, a wyvern, an unidentifiable green blob, a were-Pomeranian, and the Antichrist. Linus must set aside his fears and determine whether or not they're likely to bring about the end of days.
But the children aren't the only secret the island keeps. Their caretaker is the charming and enigmatic Arthur Parnassus, who will do anything to keep his wards safe. As Arthur and Linus grow closer, long-held secrets are exposed, and Linus must make a choice: destroy a home or watch the world burn.
An enchanting story, masterfully told, The House in the Cerulean Sea is about the profound experience of discovering an unlikely family in an unexpected place—and realizing that family is yours.