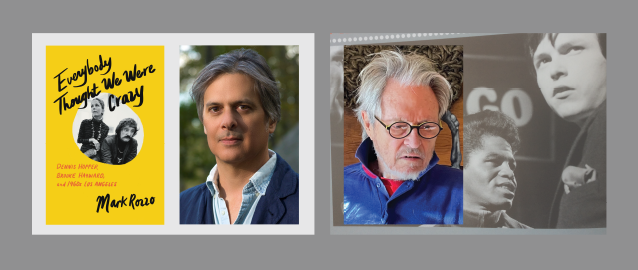 Saturday, June 4th 7:00pm
Author reading and Conversation with Mark Rozzo and Michael Lindsay-Hogg
Free.
Join us for a reading, signing and moderated discussion with three phenomenal people!
MARK ROZZO
is a contributing editor at Vanity Fair. He has also written for the Los Angeles Times, the New Yorker, the New York Times, Esquire, Vogue, the Wall Street Journal, the Oxford American, the Washington Post, and many others. He teaches nonfiction writing at Columbia University. Mark's latest book, Everybody Thought We Were Crazy: Dennis Hopper, Brooke Hayward, and 1960s Los Angeles, takes readers inside this thrilling and heady time in Los Angeles.
MICHAEL LINDSAY HOGG's
most recent project is, curiously, an old one. His 1970 Beatles' documentary "Let It Be" contributed all the footage for Peter Jackson's "Get Back," which Peter describes as a "documentary about the making of a documentary." In "Let It Be," the Beatles asked Michael to film them as they wrote and rehearsed songs to see if they could perform for an audience again. When the project was stuck for an ending, Michael came up with the idea for the Concert on the Roof.
Michael's career began at the age of sixteen, when he acted at the Stratford Connecticut Shakespeare Festival. He then attended Oxford University, leaving after a year to work with Orson Welles and act in the theatrical version of "Chimes At Midnight."
Only a few years later, through a "combination of ambition, luck and guile," he found himself, at the age of 24, directing "Ready Steady Go," which has been called the "greatest live TV Rock and Roll show of all time."
Then, because of the friendships he'd made, Michael started directing videos for the greatest rock bands of the twentieth century. He directed several for The Beatles, including "Rain" and "Hey Jude." He then went on to direct "Let It Be," due to be re-released later this year.
Michael spent fifteen years with the Rolling Stones, directing videos of "Jumpin' Jack Flash" and "Waiting on a Friend," as well as "The Rolling Stones Rock and Roll Circus." For the Who, Michael directed "Happy Jack" and "Join Together."
Moving to TV drama, Michael received four BAFTA nominations. In 1981, he won as co-director of "Brideshead Revisited."
In theatre, Michael received a Tony nomination for directing "Whose Life Is It Anyway?" "Agnes of God" ran for two years on Broadway. Then came Larry Kramer's groundbreaking drama about AIDS, 'The Normal Heart." Michael directed the first production at Joe Papp's Public Theatre in New York, after every other director had turned it down.
In 1991, Michael wrote and directed "The Object of Beauty" with John Malkovich and Andie MacDowell. Roger Ebert described the film as "cool and witty."
Michael's first memoir "Luck and Circumstance" was released in 2011. He is currently working on a second.
Michael has been painting for 25 years and has had shows of his work in Los Angeles, Austin, London and Paris.