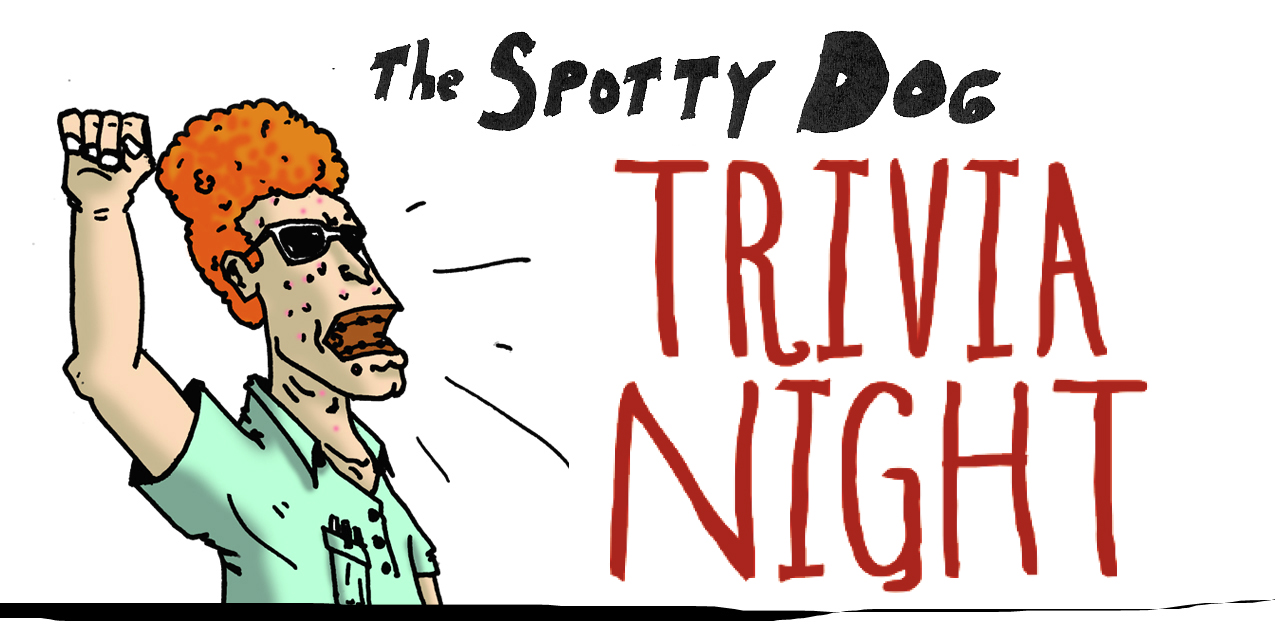 Tuesday, February 26th 6:30pm 2019
The Spotty Dog Trivia Night
Our Bi-weekly All-Nerd Throwdown. Free.
Join us for The Spotty Dog Trivia Night. Since 2006, we've held this bi-weekly trivia event.
Teams of up to four people compete against each other over four rounds of 15 questions, a worksheet of (usually) 20 questions, and four bonus questions. The winning team gets their bar tab on the house. Anyone can play. See you there!MORE

Friday, March 8th 7:00pm 2019
Visionary Women
A Book Signing with Local Author Andrea Barnet Free.
**A portion of the proceeds will be donated to the Columbia Land Conservancy**
VISIONARY WOMEN
: How Rachel Carson, Jane Jacobs, Jane Goodall, and Alice Waters Changed Our World
by Andrea Barnet
Change is sometimes sparked by unexpected characters—outsiders whose clarity of vision and strength of purpose can catalyze a revolution. VISIONARY WOMEN: How Rachel Carson, Jane Jacobs, Jane Goodall, and Alice Waters Changed Our World (Ecco; On-sale March 13, 2018) is the story of four renegades who profoundly shaped the world we live in today. Together these women—linked not by friendship or field, but by their choice to break with convention—showed what one person speaking truth to power can do. Rachel Carson warned us about poisoning the environment; Jane Jacobs fought for livable cities and strong communities; Jane Goodall demonstrated the indelible kinship between humans and animals; and Alice Waters urged us to reconsider what and how we eat.
With a keen eye for detail, Andrea Barnet traces the arc of each woman's career and explores how the work of these visionaries collectively changed the course of history. While they came from different generations, Carson, Jacobs, Goodall and Waters found their voices in the early sixties. At a time of enormous societal upheaval, all four stood as bulwarks against 1950's corporate culture and its war on nature. Consummate outsiders, they each prevailed against powerful and mostly male adversaries while also anticipating the disaffections of the emerging counterculture.
All told their efforts ignited a transformative progressive movement while offering people a new way to think about the world and a more positive way of living in it.
About the Author
Andrea Barnet is the author of All-Night Party: The Women of Bohemian Greenwich Village and Harlem, 1913-1930, which was a nonfiction finalist for the 2004 Lambda Literary awards. She was a regular contributor to the New York Times Book Review for twenty-five years, and her journalism has appeared in Smithsonian Magazine, Harper's Bazaar, The New York Times, Elle and the Toronto Globe and Mail, among other publications. She splits her time between the Hudson Valley and New York City, where she lives with her husband, the painter Kit White. Visionary Women is a finalist for the 2019 PEN/ Bograd Weld award for biography.MORE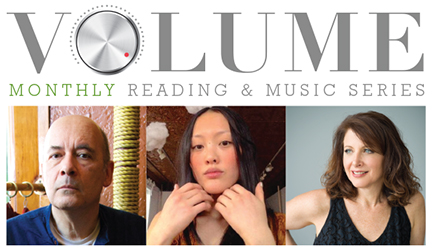 Saturday, March 9th 7:00pm 2019
Volume
The Monthly Reading & Music Series. Free.
Volume is a FREE reading & music series featuring prose, poetry and a short DJ set. Every second Saturday at 7:00 pm at The Spotty Dog. Books are available for purchase and signing.
This month's writers include:
LUC SANTE's books include Low Life, Evidence, The Factory of Facts, Kill All Your Darlings, and The Other Paris. He teaches at Bard.
VALERIE HSIUNG is a two-time Pushcart Prize nominee and the author of three full-length poetry collections, including e f g. Poems can be found or are forthcoming in the Nation, the Believer, PEN Poetry Series, and others. Born and raised in Ohio by Chinese-Taiwanese immigrants, Hsiung is now based in New York.
JILLIAN MEDOFF is the acclaimed author of the novels This Could Hurt, I Couldn't Love You More, Good Girls Gone Bad, and Hunger Point, which was made into an original cable movie. Along with writing novels, Jillian has a long career in management consulting.
Followed by a short DJ set.MORE
More About Volume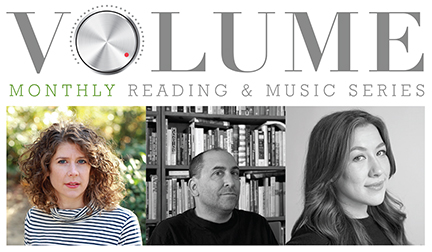 Saturday, February 9th 7:00pm 2019
Volume
The Monthly Reading & Music Series. Free.
Volume is a FREE reading & music series featuring prose, poetry and a short DJ set. Every second Saturday at 7:00 pm at The Spotty.
Books are available for purchase and signing.
This month's writers include:
JACLYN GILBERT received her MFA from Sarah Lawrence College and BA from Yale University. She is the recipient of a research fellowship from the New York Public Library, a contributor to the Bread Loaf and Tin House Writers' Conference, and her work has been nominated for a Pushcart Prize. Late Air (Little A, Nov. 2018) is her first novel.
RICHARD KLIN is the author of the novel Petroleum Transfer Engineer, as well as two nonfiction books. His work—fiction and nonfiction—has been featured on Public Radio International's Studio 360 and appeared in the Brooklyn Rail, the Atlantic, the Forward, Flyover Country Review, Adelaide, and others.
EMILY LIEBOWITZ is the author of the book National Park and the chapbook In Any Map. . Her writing has appeared in the Believer, Pen Poetry Series, jubilat, Lana Turner, and various other journals and magazines. She lives in Brooklyn, NY, where she co-edits LVNG magazine.
Followed by a DJ set by DJ SalingerMORE
More About Volume

Saturday, February 2nd 7:00pm 2019
4 Poets Reading from New Work
Drewes / Poppick / Chin-Tanner / Hewett. Hosted by Jasmine Dreame Wagner. Free.
Join us on Saturday, February 2nd at 7pm (free!), for four incredible poets reading new work: Steffi Drewes, Daniel Poppick, Wendy Chin-Tanner, and Kate Leah Hewett.
More information about the readers:
Steffi Drewes is author of the poetry collection Tell Me Every Anchor Every Arrow (Kelsey Street Press, 2016) and four chapbooks, most recently New Animal (Dancing Girl Press, 2017). Her work has appeared in various journals and event series, including the 2018 Way Bay Poetry Assembly and postcard project at Berkeley Art Museum and Pacific Film Archive. She is also the recipient of writing and art residencies at Vermont Studio Center, The Desert House in California, and the Wassaic Project in New York, where she debuted an original set of photo-based tarot cards and performed readings at the Wassaic Summer Exhibition: Vagabond Time Killers. Today she works as a freelance writer and editor in the San Francisco Bay Area.
Daniel Poppick is the author of The Police (Omnidawn, 2017). His poetry appears in BOMB, the New Republic, Fence, Bennington Review, the PEN Poetry Series, and other journals. A graduate of the Iowa Writers' Workshop and Kenyon College, he has taught at the University of Iowa, Coe College, and the Parsons School of Design, and has been an artist in residence at the MacDowell Colony and Yaddo. He currently lives in Brooklyn, where he coedits the Catenary Press with Rob Schlegel and Rawaan Alkhatib.
Wendy Chin-Tanner is the author of the poetry collections "Turn" (Sibling Rivalry Press, 2014), which was a finalist for the Oregon Book Awards, and "Anyone Will Tell You," (Sibling Rivalry Press, 2019). She is a poetry editor at The Nervous Breakdown, founding editor at Kin Poetry Journal, and co-founder of A Wave Blue World, an independent publishing company for graphic novels. Some of her poems can be found at RHINO Poetry, Denver Quarterly, The Rumpus, Vinyl Poetry, The Collagist, North Dakota Quarterly, and The Mays Anthology of Oxford and Cambridge. A trained sociologist specializing in race, identity, discourse analysis, and cultural studies, Wendy was born and raised in NYC and educated at Cambridge University, UK. She is the mother of two daughters and the proud daughter of immigrants.
Kate Leah Hewett is a poet, writer and music promoter based in Hudson NY. She arrived in Hudson from the North of England, where she spent a number of years working with artists and musicians of many genres. Kate doesn't believe in working in isolation, and feels that collaboration is key in producing work that resonates outside of her own brain. Her writing draws on her own queer experience and the vital influence that the wider queer and creative community has had on her life. Find her at @kateleahhewett on Instagram.MORE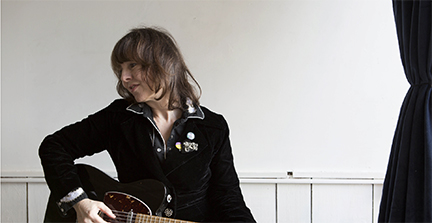 Friday, February 1st 8:00pm 2019
Amy Rigby
A Literacy Benefit. Live at the Spotty. $7.
Amy Rigby's first solo album in a dozen years, The Old Guys has received ecstatic reviews in the US and UK. NPR's Fresh Air called it one of the top albums of 2018. The Old Guys measures the weight of heroes, home; family, friends and time. Philip Roth and Bob Dylan, CD/cassette players, touring, the wisdom of age and Walter White, groupies, Robert Altman, egg creams, fellow musicians and mentors are paid tribute. Twelve songs written unmistakably by Amy and recorded by Wreckless Eric in Catskill New York, The Old Guys is the sound of a good girl grown up, never giving up.
February 1, 2019, Amy will release a new single "The President Can't Read" on Southern Domestic Recordings, available to stream or download.
"One of America's greatest songwriters"
–Nashville Scene
"Her smart, thoughtful songwriting has been knocking the wind out of listeners since she first came on the scene as a solo artist with her 1996 debut Diary Of A Mod Housewife."
–No Depression
"…one of the most inventive songwriters of her generation."
–Jersey Beat
"Rigby's old guys all benefit from the cult New Yorker's pithy wisdom, acerbic pen and sterling American guitar classicism."
–MOJO
Amy Rigby has made a life out of writing and singing about life. With bands Last Roundup and the Shams in eighties NYC East Village to her solo debut Diary Of A Mod Housewife out of nineties Williamsburg; through a songwriting career in 2000s Nashville and during the past decade with duo partner Wreckless Eric, she's released records on visionary independent labels Rounder, Matador, Signature Sounds and reborn Stiff Records as well as her and Eric's own Southern Domestic Recordings. Her songs have been covered by Laura Cantrell, Ronnie Spector and They Might Be Giants' John Flansburgh.
For the last twenty-three years, Amy has toured the US, Canada, UK and Europe. She lives with Wreckless Eric in upstate New York. When she's not writing and performing, she pours beer and sells books at The Spotty Dog bookstore in Hudson.MORE
More About Amy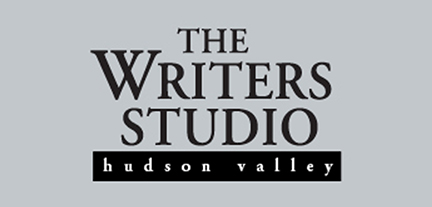 Saturday, January 26th 7:00pm 2019
The Writers Studio Reading Series
Featuring A.W. Barnes, reading from his just-published collection of essays. Free.
Featuring A.W. Barnes, reading from his just-published collection of linked essays, The Dark Eclipse: Reflections on Suicide and Absence.
"Barnes brilliantly understands the memoirist's spiritual prerogative—we are able to bring the dead back to life in our prose. We can take the pictures off the wall and make them dance; we can take the facts of dry documents and make them into vivid stories. The Dark Eclipse is a beautiful example of this."
–Susan CheeverMORE
More About The Writers Studio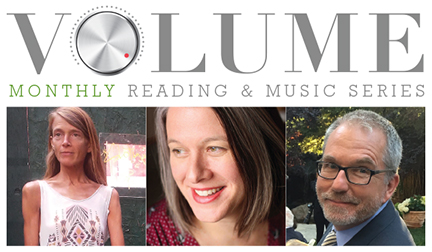 Saturday, January 12th 7:00pm 2019
Volume
The Monthly Reading & Music Series. Free.
Volume is a FREE reading & music series featuring prose, poetry and a short DJ set. Every second Saturday at 7:00 pm at The Spotty.
Books are available for purchase and signing.
This month's writers include:
Priscilla Becker
is the author of Internal West, which won The Paris Review Book Prize, and Stories that Listen. She has taught creative writing at Columbia University, Pratt Institute, NYU University, and several others. Her most recently published poem, prism, appears in Oddball magazine.
Laura Sims
is the author of Looker, a debut novel. She has published four books of poetry, most recently Staying Alive, and is the editor of Fare Forward: Letters from David Markson. She lives outside of New York City with her family.
Dave King
is the author of the novel The Ha-Ha, winner of the 2006 Rome Prize for Literature. His work has appeared in The Paris Review, The Village Voice, Fence, Conjunctions, and others. His story, "The Stamp Collector," is included in The O. Henry Prize Stories 2018.
Followed by a DJ set from DJ Jake Perry.MORE
More About Volume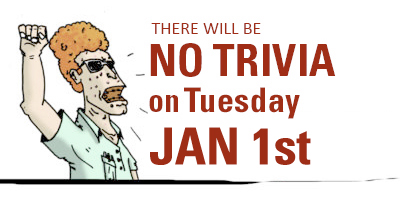 Tuesday, January 1st 6:30pm 2019
No Trivia on Tuesday, Jan. 1st!
We will resume on Tuesday, January 15th at 6:30pm. See you there!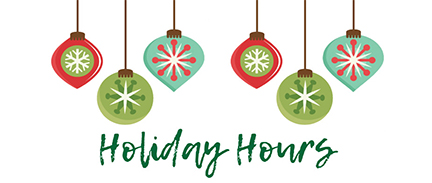 Tuesday, January 1st 5:00pm 2019
Spotty Holiday Hours!
Xmas Eve: 11-5ish, Xmas Day: CLOSED, NYE: 11-9ish, New Year's Day: 2-9ish