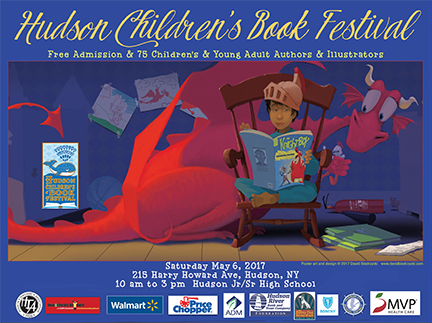 Saturday, May 6th 10:00am 2017
The 8th Annual Hudson Children's Book Festival
Join us at the LARGEST children's book festival in New York State! 10am-3pm. Free!
Join us and 75 awesome authors and illustrators, plus performers and exhibitors at The Hudson Children's Book Festival on Saturday, May 7th from 10:00AM to 3:00PM.
The Hudson Children's Book Festival, established in 2009, strives to create, sustain, and nurture a culture of literacy in partnership with our community and schools. This free, public event fosters a love of reading as families meet and greet world-class creators of books for children of all ages.
The featured author for the 2017 Book Festival is JACK GANTOS.
Jack is the author of forty-nine books for children from the "ROTTEN RALPH" picture books, collections of "JACK HENRY" short stories, upper elementary and middle school "JOEY PIGZA" and "NORVELT" novels, young adult books — LOVE CURSE OF THE RUMBAUGHS, DESIRE LINES, HOLE IN MY LIFE and THE TROUBLE IN ME. His work can lead readers from the cradle to the grave.
Please be sure to check their website (www.hudsonchildrensbookfestival.com) for a full list of authors and schedule of events. The size and quality of this event must be seen to be believed.MORE
More about the festival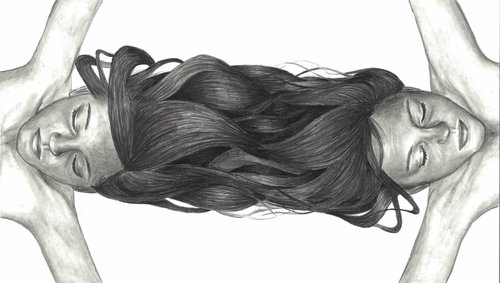 Wednesday, March 8th 6:00pm 2017
All Women's Eve
A co-event with Drop Forge & Tool (Our next door neighbors!). $5 (for the artists)
In solidarity with International Women's Day, Drop Forge & Tool, in collaboration with their next door neighbor Spotty Dog Books & Ale (US!), present ALL WOMEN'S EVE, celebrating the divine feminine through music.
First, join us at Drop Forge & Tool (442 Warren Street) for an exhibition of work-in-progress by their current artist in residence, San Francisco-based illustrator Rachel Frankel, who is working on a series of portraits of female musicians.
Then follow us next door to the Spotty Dog for sounds by beloved sound-makers Power Animal System, Emily Ritz, Rebecca Becker and Goldee Dust, joined by Rachel Frankel in an east-meet-west coastal sonic exchange! Katherine Bauer's films will provide a visual accompaniment to the evening.
Exhibition @ 6pm – 7:30 @ DF&T (442 Warren) | FREE
Music @ 7:30 pm @ Spotty Dog (440 Warren) | $5, all proceeds to artists
Rachel Frankel
http://www.speakeasyillustrations.com/
https://phosphenesf.bandcamp.com/
San Francisco-based illustrator and graphic artist, Rachel is the lead singer and guitarist of Phosphene, an Oakland-based dream rock band. Their sound is an amalgam of rock, dream pop and shoegaze.
Power Animal System
https://www.youtube.com/user/jasonmartin999
https://peterwalkeerecords.bandcamp.com/album/jason-martin-power-animal-system-methods
Witchy wolfgrrl power ass-tral multidimensional starslut cosmic bitch friend lover ally protector — Power Animal System is Jason Martin's species & gender queer trans-missional-dimensional experiential service via performance, video, seances, assorted images.
Emily Ritz
https://www.facebook.com/emilyritzmusic
Creating otherworldly celestial soul music for many years, Emily Ritz has been has been a fixture in the Bay Area music scene since 2006. Moving back east to Hudson, NY and refreshed and energized by her new environment, Emily's music is constantly evolving. Emily will releasing her new solo album Spring 2017.
Katherine Bauer
https://vimeo.com/kittybauer
Katherine Bauer bathes in the photochemical indulging emulsion to bleed into realms of the magical from whence they came.
Rebecca Becker
Rebecca Becker is not sure what genre this gloop is. Kind of ethereal with eternal longing and a little bit of vomit.
Goldee Dust

http://goldeedust.bandcamp.com
Andrea has always been fascinated with creating soundtracks and setting the musical mood for any environment. She was introduced to DJing by her friends at Albany Frequencies, and runs albanyfrequencies.com, a website that highlights upcoming shows in the 518 area. In addition to DJing, she plays keyboard in Albany based band, Haley Moley, and also produces music in her spare time.MORE
More About Drop Forge & Tool