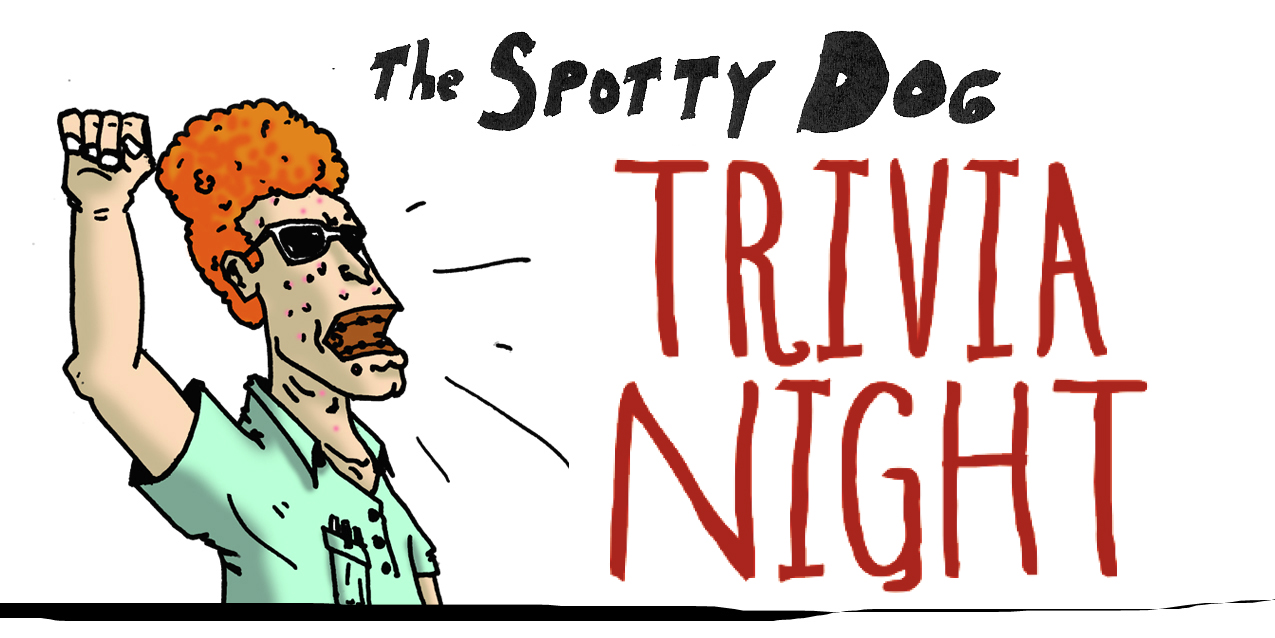 Tuesday, March 27th 6:30pm 2018
The Spotty Dog Trivia Night
Our Bi-weekly All-Nerd Throwdown. Free.
Join us for The Spotty Dog Trivia Night. Since 2006, we've held this bi-weekly trivia event.
Teams of up to four people compete against each other over four rounds of 15 questions, a worksheet of (usually) 20 questions, and four bonus questions. The winning team gets their bar tab on the house. Anyone can play. See you there!MORE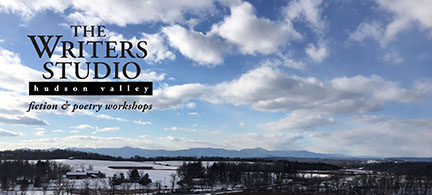 Thursday, March 29th 7:00pm 2018
The Writers Studio
Hudson Valley Reading Series. Free.
Please join our students and faculty for a reading at The Spotty Dog.
The Hudson Valley branch, the newest addition to The Writers Studio branches, operates like the flagship New York City school — with the same workshop model designed to help students discover and nurture their own voices by "trying on" many approaches to fiction and poetry. The Writers Studio Hudson Valley welcomes students at all stages, from those who have only dreamed of writing fiction or poetry to those with MFAs hungry for additional serious, ongoing instruction. Students provide the desire to write and the willingness to learn, and we provide the structure, the technical know-how, the professional feedback and the nurturing community to enable them to reach their full potential. Hudson Valley currently offers two levels of workshops, as well as readings and other public events. Teachers receive the same rigorous training as our New York City and online faculty. Students who travel frequently or have irregular work schedules are welcome to move back and forth among any of the on-site branches and the online workshops. For more information, contact Therese Eiben: 917-733-7770 or theresee@writerstudio.com.MORE
More About The Writer Studio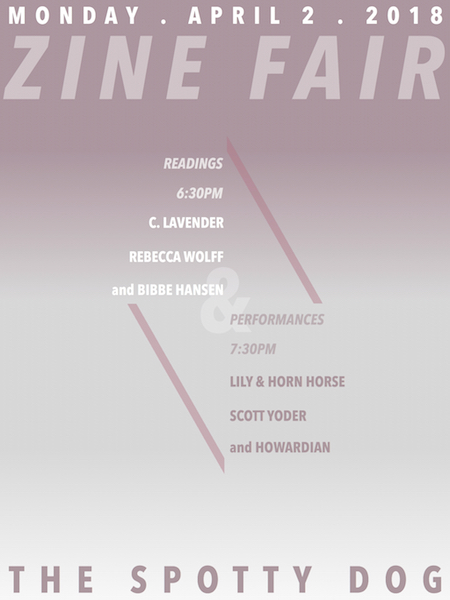 Monday, April 2nd 5:30am 2018
>>!!Zine Fair!!<<
w/ Readings and Music ! $7
Readings @ 6:30 by:
C. Lavender
http://www.clavender.net/
Rebecca Wolff
http://rebeccawolff.com/
Bibbe Hansen
http://www.bibbe.com/
Music @ 7:30 by:
Lily & Horn Horse:
Lily: Sometimes Matt just pulls out a cowbell and just starts smacking on it during one of the songs, and it's very distracting when he does it. But sometimes we add a little percussion.
Matt: Yeah, according to Lily it's never attractive. It never sounds attractive.
The cowbell?
Matt: Yeah, confusing and not appealing to you. Right?
Lily: It's just… Yeah, I would have to say yes.
Scott Yoder:
Seasoned musician Scott Yoder has travelled a persistent & diverse path since he first began performing as a young teenager. From starting out with the noisy garage pop of his former band The Pharmacy to playing as a backing musician for Kimya Dawson he has always reinvented himself. All the while opening for bands such as Fleet Foxes, Smith Westerns, Black Lips & Kevin Morby.
As a solo musician he further evolved his sound into fronting an electrified & theatrical band of glammy freaks across the US & Europe. After a series of cassettes he released his first solo LP "Looking Back In Blue" to critical acclaim in May 2016. "Lyrically impressive songs & melodies drive this album" (Surviving the Golden Age) "No matter what the sound the songwriting remains the strongest part of Scott's work" (Clunk Magazine).
His new 7" "Ways Of Love" (Greenway Records) comes out in September as he embarks on a US tour. Drawing inspiration from T. Rex, The Damned & Kate Bush the new single evokes a moody & danceable darkness that compels you to follow him deeper. Look for him & his band (featuring Shawn Randles from Boyfriends, Bryant Moore from The True Loves & Brent Zmrhal from Slushy) this fall as he tours the USA.
Howardian:
Howardian is an American pop collective fronted by Ian Vanek (x-Japanther.) The group uses loose poly rhythms, sticky synth melodies and dynamic vocal hooks to make strange songs for weird people. The resulting infectious art-rock is authentic and catchy. Howardian's tracks feature fuzzy, distorted walls of sound and plenty of samples, all with a scuzzy garage-rock vibe.
Flyer by Logan VisscherMORE
Howardian
Lily & Horn Horse
Scott Yoder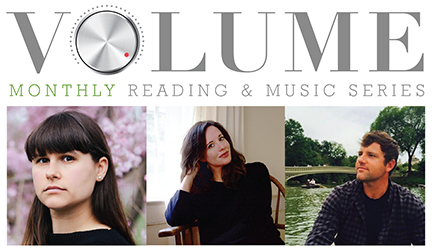 Saturday, April 14th 7:00pm 2018
Volume
The Monthly Reading & Music Series. Free.
Volume is a FREE reading & music series featuring prose, poetry and a short DJ set. Every second Saturday at 7:00 pm at The Spotty.
Books are available for purchase and signing.
This month's writers include:
Monika Woods is a writer, a literary agent at Curtis Brown, and an editor at Triangle House. Her writing has appeared in Brooklyn Magazine, Joyland, and elsewhere. She lives in Brooklyn with her family, and teaches at Catapult. Find her at booksijustread.com & @booksijustread.
Rachel Lyon is the author of Self-Portrait with Boy (Scribner 2018). Her shorter work has appeared in Joyland, Iowa Review, McSweeney's, and other publications. She teaches for Sackett Street, Catapult, and elsewhere, and co-founded the reading series Ditmas Lit. Visit her at rachellyon.work.
Bud Smith is the author of nine books, including the novel Teenager (Tyrant Books, 2018), and the short story collection Double Bird (Maudlin House, 2018). He lives in Jersey City and works heavy construction. He blogs at tinyletter.com/Bud_Smith, and tweets at @bud_smith.
Followed by a DJ set from Volume writer Taylor Larsen.MORE
More About Volume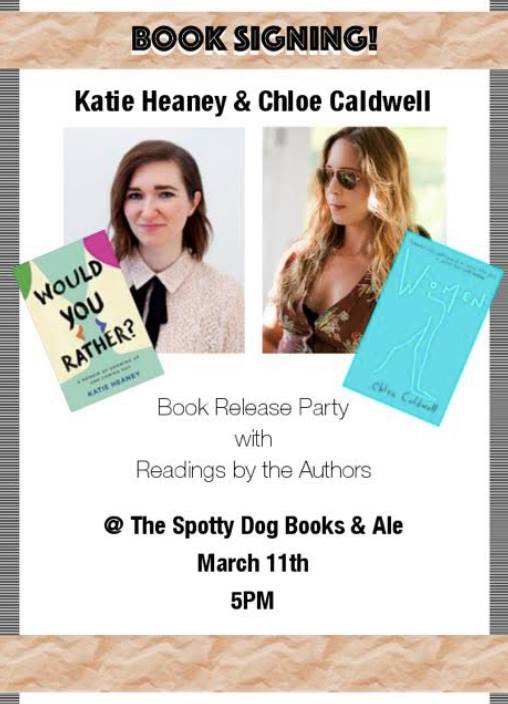 Sunday, March 11th 5:00pm 2018
Katie Heaney and Chloe Caldwell
Book Release Party with Readings by the Authors. Free.
Katie Heaney:
I'm a writer from Minnesota, living in Brooklyn. I am the author of the memoirs Never Have I Ever and the forthcoming Would You Rather?, as well as the novels Dear Emma and Public Relations (co-authored with Arianna Rebolini). I have written for Cosmopolitan, New York magazine online, The Atlantic, Racked, and The Hairpin, and others. Before working as a full-time freelance writer, I worked at BuzzFeed for four years as both a writer and editor.
Chloe Caldwell is a nonfiction writer living in upstate New York. Her essays have appeared in The Rumpus, Chronogram, The Frisky, The Sun Magazine, SMITH Magazine, Jewcy, Mr. Beller's Neighborhood, Vol 1. Brooklyn and Freerange Nonfiction. She writes a column for The Faster Times called "Love & Music.MORE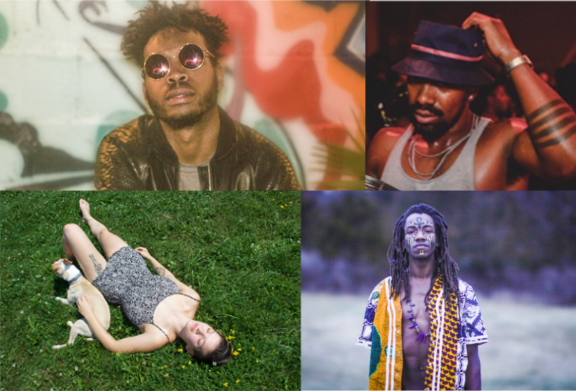 Saturday, February 24th 8:00pm 2018
Kulton the Maker
With DJ Fulathela, Mounanou Badilla, and Dee and the Sunny Saps. $8.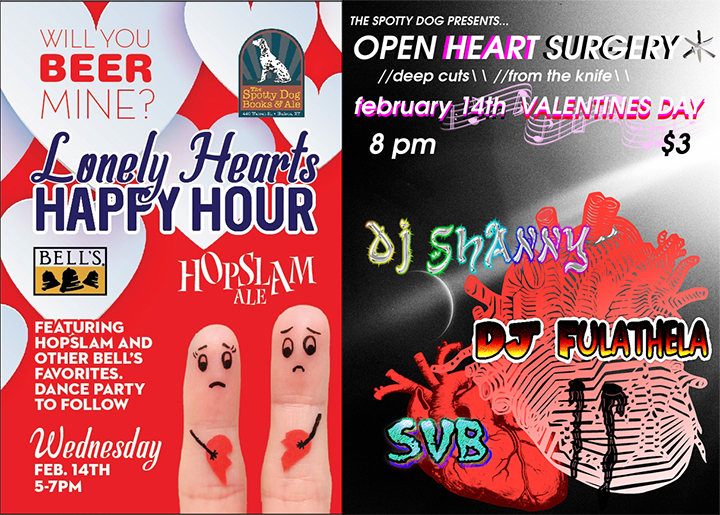 Wednesday, February 14th 5:00pm 2018
Lonely Hearts Happy Hour and Open Heart Surgery DJ Dance Party!
Valentine's Day Events Start at 5pm. Happy Hour is Free. Dance Party $3.
5-7PM:
Lonely Hearts Happy Hour featuring Bell's Ales (Hopslam, and other favorites)
Free!
8PM:
Open Heart Surgery
(Deep Cuts from the Knife)
$3 Cover
with
DJ SHanny
DJ Fulathela
SVBMORE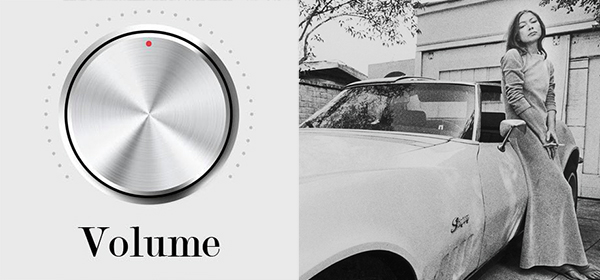 Saturday, February 10th 7:00pm 2018
Volume
The Monthly Reading & Music Series. Free.
Volume is a FREE reading & music series featuring prose, poetry and a short DJ set. Every second Saturday at 7:00 pm at The Spotty.
Books are available for purchase and signing.
This month's writers include:
DARCEY STEINKE is the author of the memoir Easter Everywhere and the novels Milk, Jesus Saves, Suicide Blonde, Up Through the Water, and Sister Golden Hair. She has taught at the Columbia University School of the Arts, Barnard, The American University of Paris, and Princeton.
NICK FLYNN has worked as a ship's captain, an electrician, and as a caseworker with homeless adults. He is currently a professor on the creative writing faculty at the University of Houston, where he is in residence each spring. His most recent book is My Feelings, a collection of poems.
Followed by a DJ set from Dawn Breeze.
REBECCA GODFREY is the author of the novel, The Torn Skirt, and Under the Bridge, an investigation into the murder of a 14-year-old girl. She teaches writing in the MFA program at Columbia University. Her new novel, The Dilettante, is forthcoming from Knopf.MORE
More About Volume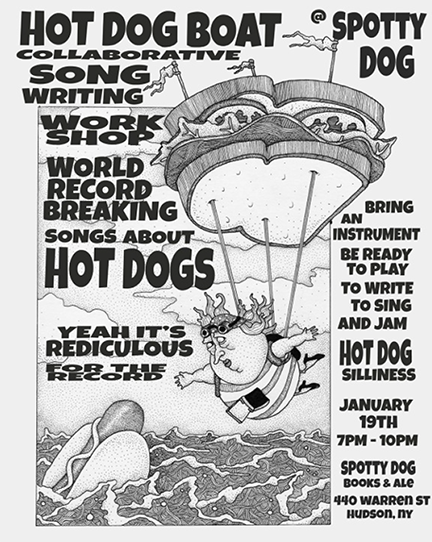 Friday, January 19th 7:00pm 2018
Hot Dog Boat!
Collabotative Sogwriting Workshop and Performance about Hot Dogs with Burt Murder. Free!
Bring an instrument. Be ready to Play, to write,to sing, and jam.
There will be beer-boiled hot dogs, and a person dressed as a hot dog.
Yes, it's ridiculous.MORE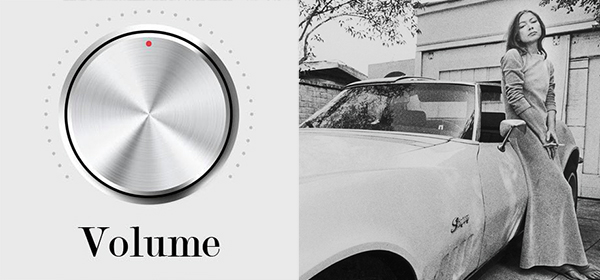 Saturday, January 13th 7:00pm 2018
Volume
The Monthly Reading & Music Series. Free.
Volume is a FREE reading & music series featuring prose, poetry and a short DJ set. Every second Saturday at 7:00 pm at The Spotty.
Books are available for purchase and signing.
This month's writers include:
TAYLOR LARSEN is a graduate of Columbia's MFA program and her debut Stranger, Father, Beloved came out in July of 2016 through Simon and Schuster. She is currently a fiction instructor at Catapult and The Sackett Street Writers Workshop. Her novel was selected as a "2017 Summer Must Read" by The Huffington Post.
JOE HAGAN has written for Rolling Stone, New York, and The Wall Street Journal, publishing profiles and exposés of Hillary Clinton, Henry Kissinger and many others. His new book, "Sticky Fingers: The Life and Times of Jann Wenner and Rolling Stone Magazine," was a two time NYT, Critics' Top Books of 2017 pick.
MICHELE FILGATE is a contributing editor at Literary Hub and on the board of the National Book Critics Circle. Her work has appeared in Longreads, The Washington Post, The Los Angeles Times, Slice, Tin House, Gulf Coast, The Rumpus, and many other publications.
Followed by a DJ set from Samantha Hunt.MORE
More About Volume