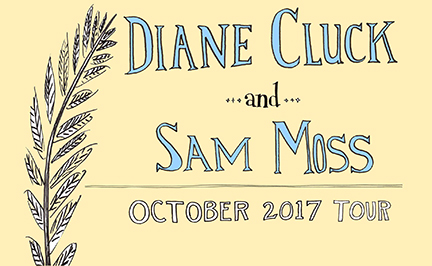 Sunday, October 22nd 8:00pm
Diane Cluck & Sam Moss
Returning as a part of their 2017 Northeast tour. $10.
Diane Cluck is a singer-songwriter originally from Lancaster, PA. She describes her music as intuitive folk. She currently resides in Virginia.
Cluck began performing her songs publicly in New York City in 2000. She self-released her first solo album, Diane Cluck, that same year. By 2001 she was appearing regularly at the Sidewalk Cafe in New York's Lower East Side, a venue that has featured such artists as Jeffrey Lewis, Regina Spektor, and Kimya Dawson. Massachusetts-based record label Important Records distributed Cluck's second and third albums, Macy's Day Bird in 2001 and Black With Green Leaves in 2002. Also in 2002, her song "Monte Carlo" was included in a compilation of New York Anti-folk music, Anti-folk Vol. 1, released by British label Rough Trade Records.
She wrote most of her fourth album, Oh Vanille / ova nil, while staying at the Dorland Mountain Arts Colony in Temecula, California in 2003. The album was distributed in 2004 by Important Records, and subsequently reissued on 180g audiophile vinyl pressed by 3 Syllables Records in 2010. Her fifth album, Countless Times, was distributed by Voodoo-Eros in 2005, and her sixth album, Monarcana, 2001-2004, was distributed in 2006 by Very Friendly.
In December 2011 she announced a fan-funded "Song-of-the-Week" project, in which she has been writing and distributing a series of 24 new songs directly to subscribers.
In March 2014, Cluck released her seventh album Boneset, her first in eight years, on 10″ vinyl, CD, and digitally, laid out "Dark to light to dark, the album overends as a mobius strip, its songs seeded with connection and release, overcoming fear with heart…birds, bones, surrender…"
In early 2014, Cluck embarked on a tour of the US, Ireland, the UK & Europe. She released and co-directed her first official music video for Boneset's first single, Sara.
"She is likely one of the most refined and elegant songwriters in all of neo-folkdom. A brilliant idiosyncratic guitarist, a witty and wise lyricist, an imaginative melody writer with a powerful voice; her dark and introspective tunes are utterly captivating, sorta like an earthier Kate Bush. Watch her spellbind the room."
–Shawn Bosler of The Village Voice
__
Sam Moss is a musician living in Boston. His work rambles through various offshoots of Americana, from original and interpreted folk songs, to pastoral and occasionally jagged instrumental guitar. In 2016 he released Fable, his third release featuring voice. He is the recipient of fellowships from the MacDowell Colony and Marble House Project, and his work has been featured in NPR, Paste, and Daytrotter, among others.MORE
More About Diane
More About Sam