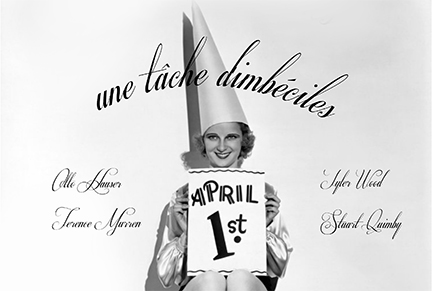 Saturday, April 1st 7:00pm
Une Tache D'imbéciles
Live Jazz at the Spotty Dog. $7.
Otto Hauser
Musician Otto Hauser is a multi-instrumentalist, composer, and educator best known for his work as a drummer.
In addition to solo performances, Hauser leads the ensemble Expectations and co-leads the trio Late Regulars. Over the past twenty years, he has performed on dozens of studio albums and hundreds of live shows across North America, South America, Europe, and Asia, working with diverse artists such as folk legends Kath Bloom, Vashti Bunyan, Mike Heron, Michael Hurley, and Bert Jansch; rockers The Black Crowes, Gary Louris, Philip Selway, Jeff Tweedy, and Tony Visconti; drum legends Steve Gadd and Bobby Previte; the unclassifiable Meshell Ndegeocello; and many contemporary indie and folk acts, including Nat Baldwin, Devendra Banhart, Richard Buckner, Espers, Josephine Foster, Fruit Bats, Cass McCombs, Juana Molina, Elvis Perkins, Sharon Van Etten, Vetiver, and Jonathan Wilson.
Originally from Rochester, Hauser currently lives in New York's Hudson Valley.
__
Terence Murren is a string bassist, electric bassist and guitarist. He studied classical string bass and composition with Sue Powell and Annea Lockwood at Vassar College. A jazz musician at heart he has studied bass with Tim Ferguson, Steve Neil and Drew Gress; as well as doing course work with Mike Richmond at NYU's Graduate program in Jazz Performance. Along with leading his own group, the Eternal Now, Terence is an active member of the cajun alt. country group the Doc Marshalls and Matt Bauders' Doo Wop group The White Blue Yellow and Clouds.
__
Tyler Wood was born and raised in the northeast corner of the U.S. Although Presque Isle, Maine is known more for its potatoes and skidoos, he had a rich musical upbringing and nurturing teachers. His first instruments were piano, trumpet, and cardboard-box drums.
When Tyler went off to college, his plan to study astrophysics was virtually eclipsed by the purchase of a real drum-set and a new-found love for hip-hop and recording. The campus had a dingy basement studio, where he encountered his first reel-to-reel tape machine and his first sampler. He began playing, recording, and mixing music of all kinds. A weekly restaurant gig paid the bills, and a hip-hop radio show kept the vinyl flowing in. But New York beckoned, as it will…
Upon arriving in Brooklyn in 2006, Tyler was greeted by a bed-bug infestation and a furniture moving job. Not to be thwarted, he soon began to tour and record with acts such as Luke Temple, Glass Ghost, Chester French, and Joan As Police Woman. During this time, he also built a studio and a parallel career producing, recording, and mixing records.
In 2009, Tyler reconnected with an old acquaintance. Immediately recognizing her brilliance, Tyler teamed up with fellow Mainer and fellow "T.W." Therese Workman to form Oh My Goodness. Their debut album was released in 2011 and the follow-up is nearly complete.
Tyler also has been traveling the world as chief audio engineer with the non-profit group Remix <--> Culture, recording remote video shoots of incredible folkloric music from Morocco to Brazil.
Tyler currently resides in the Hudson Valley of New York, is bed-bug free, and continues to make, record, and mix music every day.
__
Stuart Quimby
Stuart Quimby has at any one time been a Classical and Jazz Composer, and Professional Musician playing flute, vocals, most of the baroque wind instruments, the Balinese gamelan instruments suling bali, saron, and reong, the blues harp and chromatic harmonica, the trumpet, various keyboards (esp. early synths), and several experimental instruments of his own design). In addition he's been a Music Educator, Network Analyst and Designer, Security Consultant, Geometer, Lecturer on Childhood Education, Applied Mathematician, Toy Manufacturer and Designer, Chef, Programmer, Restaurateur, Mechanical Engineer,and General Fool.
Quimby has studied with Richard Davis, Paul Robeson, Les Thimmig, Roscoe Mitchell, Robert Dick, Doc Cheatham, Jean-Pierre Rampal, and Frans Brüggen among many others.
An abbreviated list of his credits include stints with Luther Allison and the Duke Ellington Orchestra, and performances with Paquito D'Rivera, Ben Sidran, Vassar Clements, Jimmy Schwall, Gordon Lightfoot, the Brüggen Quartet, several chamber groups and classical ensembles, as well as the jazz quartet M.2.Q, which he co-founded. He has recorded on numerous albums over the years in multiple genres.
Quimby has spent almost four decades exploring psycho-acoustics, especially microtonal tunings. He designed and built several experimental instruments – including a guitar with movable frets and an organ that plays 43 notes per octave. He has published articles in national journals on microtonal techniques for the flute, pitch perception, and the multi-dimensional representation of wave forms.MORE