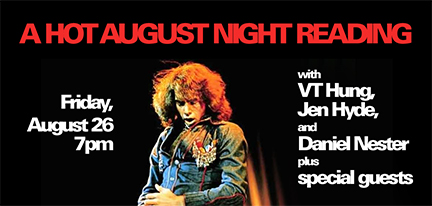 Friday, August 26th 7:00pm
A Hot August Night Reading
with VT Hung, Jen Hyde, and Daniel Nester. Free.
Friday, August 26 7pm
A Hot August Night Reading
with VT Hung, Jen Hyde, and Daniel Nester plus special guests.
Asian American Writers' Workshop fellows VT Hung and Jen Hyde wrap up their fellowships at The Millay Colony in Austerlitz, NY and read new work, joined by friend Daniel Nester and others. A short set from DJ Wizzy D (Delmar, NY) to follow.
VT Hung was born in Dorchester. He is a Kundiman Fellow and currently resides in Washington Heights with his girlfriend and their cat. You can contact him at www.vthung.com. Link to recent work here.
Jen Hyde is the author of Hua Shi Hua (华画诗) Drawings and Poems from China, forthcoming in January 2017 from Ahsahta Press. Her poems and generative translations have appeared in The Margins, The Volta and Drunken Boat, and she is a collaborative chapbook publisher with No, Dear / Small Anchor. The recipient of fellowships from Ithaca College and NYU Shanghai, Jen is currently a Margins Fellow at the Asian American Writer's Workshop and a Heart Valve Ambassador for the American Heart Association. She lives in Brooklyn. Link to recent work here.
Daniel Nester is the author most recently of the memoir-in-essays Shader: 99 Notes on Car Washes, Making Out in Church, Grief, and Other Unlearnable Subjects (99: The Press 2015). His previous books include How to Be Inappropriate (Soft Skull, 2010), God Save My Queen I and II (Soft Skull, 2003 and 2004), and The Incredible Sestina Anthology (Write Bloody, 2014), which he edited. He is an associate professor of English at The College of Saint Rose in Albany, NY. Link to recent work here.MORE